PENDING BUSINESS, updated 11.09.2022
Want to volunteer to SUB?  Want to call DIBS on serving a future Mass?
RESPONSE is KEY–first come, first serve!  Email Fr. McCabe and/or Kathie Scott:
asstofstmatts@gmail.com kb.scott2@verizon.net
Looking ahead to Advent, Christmas, and beyond:
2022 Nov 30 Wed 7:00 Advent Holy Hour (UC) 2 Servers (Incense, Humeral Veil)
2022 Dec 7 Wed 7:00 Advent Holy Hour (UC) 2 Servers (Incense, Humeral Veil)
2022 Dec 14 Wed 7:00 Advent Holy Hour (UC) 2 Servers (Incense, Humeral Veil)
2022 Dec 21 Wed 7:00 Advent Holy Hour (UC) 2 Servers (Incense, Humeral Veil)
2022 Dec 24 Sat 4:30pm Christmas Eve Vigil Mass (UC) DHellwarth plus 3 more Servers (Incense, Cross, Acolyte1, Acolyte2)
2022 Dec 24 Sat 4:30pm Christmas Eve Vigil Mass (LC) GRoken plus 3 Servers (Incense, Cross, Acolyte1, Acolyte2)
2022 Dec 24 Sat 9:00pm Christmas Eve Vigil Mass (UC) DCrossen plus 4 more Servers (Incense, Cross, Acolyte1, Acolyte2, Book)
2022 Dec 25 Sun 8:00am Christmas Mass (UC) 3 Servers (Cross, Acolyte1, Acolyte2)
2022 Dec 25 Sun 11:00am Christmas Mass (UC) JPapaleo plus 2 Servers (Cross, Acolyte1, Acolyte2)
***THERE IS NO 7pm Mass on Christmas Day***
2022 Dec 31 Sat 4:30pm Vigil Mass of Mary, Mother of God DCrossen plus 2 more Servers
2023 Jan 1 Sun 7:00am Mass of Mary, Mother of God 2 Servers
2023 Jan 1 Sun 9:00am Mass of Mary, Mother of God JPapaleo plus 3 Servers
2023 Jan 1 Sun 11:00am Mass of Mary, Mother of God 4 Servers
***THERE IS NO 7pm Mass on New Year's Day***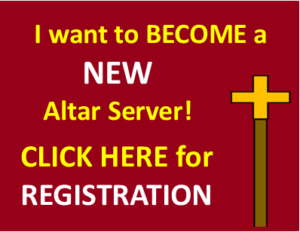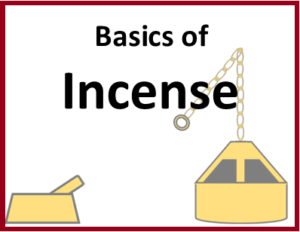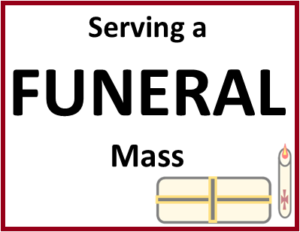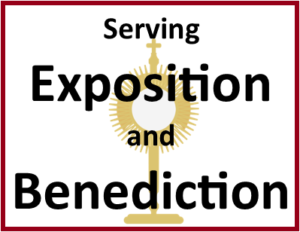 Communications: Email and Flocknote
Mrs. Kathie Scott (kb.scott2@verizon.net) emails the schedule directly to the altar servers.
Download the app, find yourself on stmattsmayfair.flocknote in the Altar Servers GROUP.  Double check your contact info.  You will receive Altar Server news and reminders through this app via text and/or email.
If you need a substitute to cover a Mass you are scheduled to serve, send an email/message to Kathie Scott and to Fr. McCabe, "Can anyone cover…?"


Becoming an Altar Server
Q: Who can become an Altar Server?
A:  A practicing member of our parish who has received 1st Communion and is in 4th Grade or higher.
Q: When do new servers get started?
A:  We recruit and train at the beginning of the school year.  New recruits in our parish school will have training during school.  New recruits in our PREP program have training sessions outside school hours.
Becoming an EXPERT Altar Server
Q:  How do new servers become expert and comfortable?
A:  Practice!  Ask Kathie Scott to schedule you MORE.  Serve Weekday Masses (and remember there's Saturday too).  Volunteer for special ceremonies.  Review!  You are always welcome to ask Fr. McCabe to meet you after a particular Mass to go over things you know and learn new things too.
Need to update your Availability to serve Masses?
New seasons, news sports and activities…your calendar changes.  To update your Mass preferences and availability for serving, complete the form below and email it to Fr. McCabe (asstofstmatts@gmail.com) or Mrs. Scott (kb.scott2@verizon.net).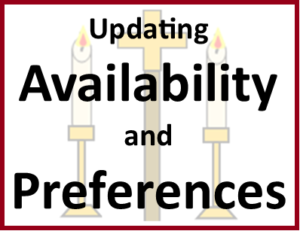 Special Ceremonies
Family Masses
Feast of St. Matthew
40 Hours (Sunday, Monday, Tuesday)
All Saints' Day
Immaculate Conception
Christmas Eve
Christmas Day
First Communion
Confirmation
Ash Wednesday
Palm Sunday
Holy Thursday, Mass of the Lord's Supper
Good Friday, 3:00 Passion service
Good Friday, Tenebrae
Easter Vigil
Easter Sunday
May Crowning
Corpus Christi