Education & Information for Youth
This religious education program is open to all children from first grade level to confirmation who are not attending a Catholic elementary school. It is a program that gives religious instruction and also prepares the children to receive the Sacraments of Penance, Holy Eucharist, and Confirmation.
Classes for the 2021-2022 school year will be IN PERSON !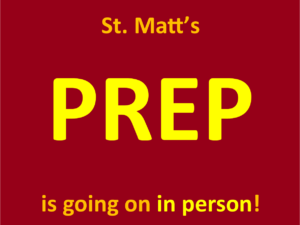 PREP/CCD


We had registration sessions in June and July.  Still need to register your child?
Contact Deacon Bob ASAP at 215-333-0585 or

mattprep@smatthew.org
Special Education PREP
Religious education for children with special needs to help them grow in faith and prepare to receive the sacraments.
For more information, please contact Deacon Bob Burns at 215-333-0585 or mattprep@smatthew.org