February 26 is Ash Wednesday.
Masses:  6:30 AM, 8:30 AM, 10:00 AM, 7:00 PM




Liturgy of the Word Service at 12:00 Noon.




Blessed Ashes will be distributed at all Masses




and the Liturgy of the Word Service.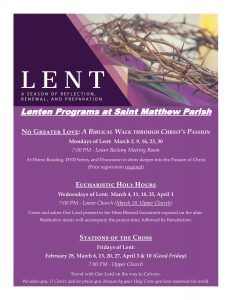 Welcome to Saint Matthew Parish
A parish is for most Catholics the single most important part of the Church. The parish is where the mission of Christ continues. The parish is where Catholics publicly express their faith, joining with others to give proof of their communion with God and with one another. This can only happen with collaboration of clergy, religious and laity – both adults and youth – as they recognize their common mission.
Click here to visit our Parish Facebook page!  Don't forget to "Like" us!