The public celebration of Masses has resumed here at St. Matt's. Below are some important details about the resumption of public Masses at Saint Matthew's, including a link to a video from Father Welsh. Updates can be found on our parish Facebook page: Facebook.com/stmattsmayfair.
Video Link: https://www.facebook.com/2125795504355895/posts/2630939447174829/?vh=e

Here are some important things to keep in mind:
Sunday Obligation: 

The obligation to attend Sunday Mass remains suspended

.  If you are ill or in a high-risk category for contracting COVID-19, or you simply not yet ready to gather in larger groups, we encourage you to remain at home and continue to watch the livestream of our 11:00 AM Sunday Mass on Facebook (Facebook.com/stmattsmayfair).  It is certainly fine to continue to pray with us virtually until you are ready to come back to Church.    
**Temporary Mass Schedule:  Saturday at 4:30 PM.  Sunday at *8:00 AM*

,

11:00 AM, and 7:00 PM.**  Weekday Mass (Monday-Saturday) at 8:30 AM.  All Masses are in the

Upper Church

.
Bring your mask!  We ask that you please bring and wear your mask for the health and safety of all those in attendance.  We appreciate it!
Where to enter Church:  We are asking that everyone arrive at the handicap ramp entrance to the Church (facing the back parking lot).  This will allow our volunteers to get everyone in and properly socially distanced.  Please plan to arrive early!
Temperature Checks:  Before entering Church, your temperature will be taken.  Please, if you have a fever or are otherwise ill, stay home and watch the livestream of the 11:00 AM Sunday Mass on Facebook (Facebook.com/StMattsMayfair).
Social Distancing:  Everyone will maintain social distancing when inside the Church.  Your household will be seated together, but will be seated socially distant from other households.  Volunteers will be on hand to direct the seating.
Sanitizing:  For the health and safety of all in attendance, you may want to bring your hand sanitizer with you.  Please know that the Church will be thoroughly sanitized after each Mass to make it as safe as possible for the congregation at the next Mass.
11:00 AM Sunday Livestream:  The livestreaming of the 11:00 AM Sunday Mass on Facebook (Facebook.com/StMattsMayfair) will be continuing!  
The Sacrament of Reconciliation (Confessions) will be offered every Saturday from 3 to 4pm.
All Masses with intentions that are not offered publicly will be offered privately by the Priests of the Parish.
The Rectory Office is open as of July 2 for in-person visits from 9 AM to 7:45 PM (Monday-Friday), Saturday from 9 AM to 6:45 PM, and Sunday 8 AM to 1:15 PM.  Masks are required.
Sacramental Emergencies will be handled on a case-by-case basis.  Please call the Rectory at 215-333-0585.
Online Parish Giving:  To sign up for secure, online Parish Giving, please click here.  Your continued support is greatly appreciated, especially during these times.
Saint Matthew Parish is livestreaming Mass and other liturgies and devotions on our Facebook page!  Just click HERE.  You do not need to have a Facebook account to view this page or our livestreams and other posts! Mass is livestreamed every Sunday at 11 AM and is available to view afterwards.
Please click HERE for information on the Parish Giving program, enabling you to make safe, secure online contributions electronically to Saint Matthew Parish.  Your support is greatly appreciated, especially in these difficult times.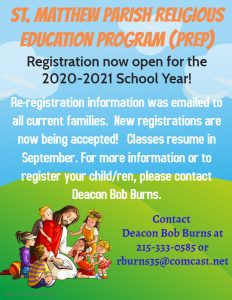 In Memoriam:
We pray for the happy repose of the soul of Sr. Irene Loretta Cassady, IHM.  More information can be found here.  We pray for the happy repose of the soul of Msgr. Charles McGroarty.  More information can be found here. Memorial Masses for both Msgr. McGroarty and Sr. Irene will take place in the near future.  May their souls, and the souls of all the faithful departed, through the mercy of God, rest in peace.  Amen.
A Message from Father Welsh:
During these trying times as we confront the isolation brought about by the COVID-19 virus, please be assured of our oneness in Faith. While our buildings may be closed at this time, our hearts remain open to the Lord and to each other. This will be a different sort of Lent for all of us, but also perhaps one of the most spiritually profitable as we bear this cross together. Please be assured that Masses will continued to be offered for you and your intentions on a daily basis. Know that you all remain in our prayers and that we are available to you by phone, and certainly in case of any emergency. Please do not hesitate to call us if you have any concerns, questions or simply need to talk at 215-333-0585.
– Father Welsh
Welcome to Saint Matthew Parish
A parish is for most Catholics the single most important part of the Church. The parish is where the mission of Christ continues. The parish is where Catholics publicly express their faith, joining with others to give proof of their communion with God and with one another. This can only happen with collaboration of clergy, religious and laity – both adults and youth – as they recognize their common mission.
Click here to visit our Parish Facebook page!  Don't forget to "Like" us!