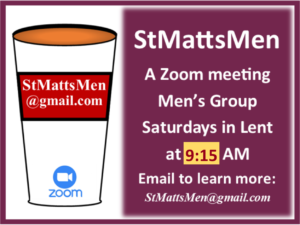 Prior to COVID, we had a men's group which met on the first Saturday of the month after the 8:30 am Mass.  We'd gather in the Rectory Meeting Room.  Coffee and donuts would appear somehow.  They were good times.
We can't wait any longer for those good times to come back.  We must move on to new good times.
Starting in Lent, we will be assembling a men's group which will meet on Zoom.  Sadly, that means BYOCnD–Bring your own coffee and donuts.
So how will this work?
If you are interested, send an email to StMattsMen@gmail.com to introduce yourself.
We will send you a MEETING ID number and a PASSCODE.  You can use these to join the meeting in the Zoom app.
We will send you an INVITATION LINK which you can also use to join the meeting.
The format the men of the parish have favored is pretty relaxed and flexible.
We ask for prayer intentions from the group.
We then pray together: perhaps Morning Prayer from the Liturgy of the Hours, or a Chaplet of Divine Mercy.
We then read and discuss a reading from the upcoming Sunday, or a short Catechesis (a theology lesson from the teaching of the Church).
We aim to have meaningful conversations about the real, decisive aspects of being disciples of Jesus Christ in this world.
The meetings will start up at 9:15 am on Saturdays in Lent.
For the first TWO Saturdays (February 20 and February 27) we will be doing test runs.  Some folks may be new to using Zoom.  For these test runs, we'll get connected and introduced, pray morning prayer, and share a bit about our spiritual interests.
For the remainder of Lent, we will meet every Saturday of Lent at 9:00 am: March 6, 13, 20, 27
We will decide as a group what we want to do after Lent: meet on the first Saturday of each month, or perhaps more often.