So that St. Matthew Parish may continue to provide the safest possible environment, please note and observe the following.
•Bring your mask!  We ask that you please bring and wear your mask for the health and safety of all those in attendance.  We appreciate it!
•Where to enter Church:  We are asking that everyone arrive at the handicap ramp entrance to the Church.  This entrance is on the PARKING LOT SIDE of the church.  This will allow our volunteers to get everyone in and properly socially distanced.  Please plan to arrive early!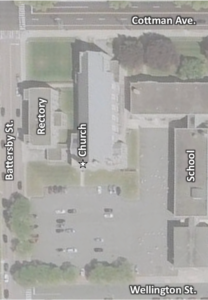 •Temperature Checks:  Before entering Church, your temperature will be taken.  Please, if you have a fever or are otherwise ill, stay home and watch the livestream of our 11:00 AM Sunday Mass.
•Social Distancing:  Everyone will maintain social distancing when inside the Church.  Your household will be seated together, but will be seated socially distant from other households.  Every other pews has a sign, "SIT HERE, please."  Volunteers will be on hand to direct the seating.
•Sanitizing:
For the health and safety of all in attendance, please use the hand sanitizer at the entrance of Church.
At Communion time, an altar server or a volunteer will spray sanitizer on the hands of everyone receiving Holy Communion.
Then the priest of deacon will bring Communion to you right where you are, in your pew.
The Church itself is thoroughly sanitized after each Mass to make it as safe as possible for the congregation at the next Mass.
•Sunday Obligation:  The obligation to attend Sunday Mass remains suspended.  If you are ill or in a high-risk category for contracting COVID-19, or you simply not yet ready to gather in larger groups, we encourage you to remain at home and continue to watch the livestream of our 11:00 AM Sunday Mass.  Until you are ready to come back to Church, pray with us virtually.